Features of the inn
Time moves slowly in this quiet, natural space. We have been welcoming customers with heartfelt hospitality since we were first founded. We are committed to making your trip a success.
This mountainous region in the Inunaki Range is full of natural beauty
Exterior passageways connect three buildings—the Yubaru Inn, Wakita Inn, and Shiraki Inn—located on either side of the Inunaki River. Stroll though the buildings to enjoy the changing seasons and the towering camphor trees rising up from the river banks. We hope you find our inn to be a place of healing.
湯巡りの宿Nansuikaku
A place of healing
Front entrance

The feeling of "wa" (harmony) created by the white walls and exposed wood grain is the key to this gate's aesthetic.

フロント・ロビー

The first thing you see when you enter the inn is the tatami-covered lobby. The fragrance and texture of tatami flooring will soothe your soul.
Unwind in a tranquil space
The River Inunaki Bar and Lounge

Business hours/20:00〜24:00

The Husband and Wife Camphor Tree Lounge

The relaxing Husband and Wife Camphor Tree Lounge is located on the first floor.

The relaxation space

Please feel free to use the relaxation space for conversation or reading.
お食事を楽しむ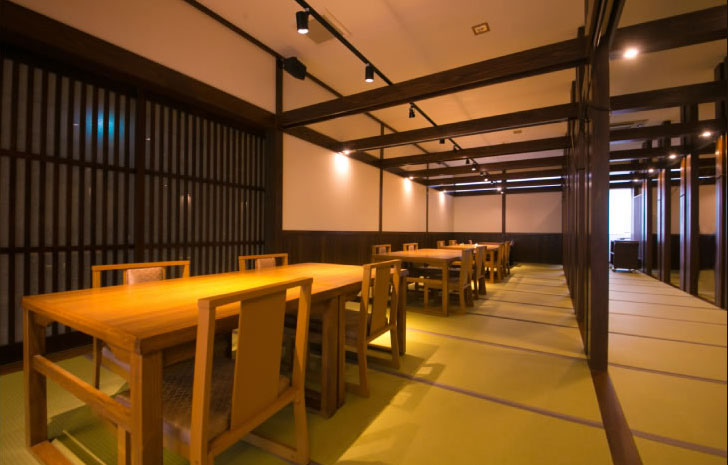 Dining Area

"Gobekkan"

The Gobekkan Dining Area features chairs
and tables arranged atop tatami flooring.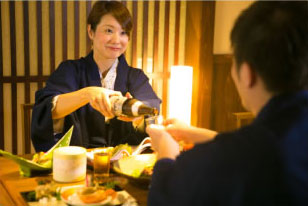 Private Dining

"Kachofugetsu"

The restaurant "Kacho Fugetsu" has 4 private rooms.
Please enjoy your meala without being bothered by the surroundings.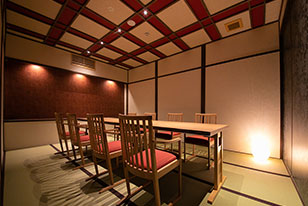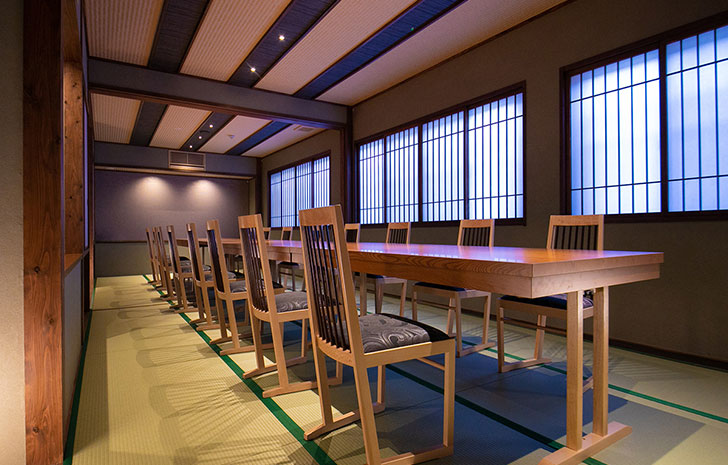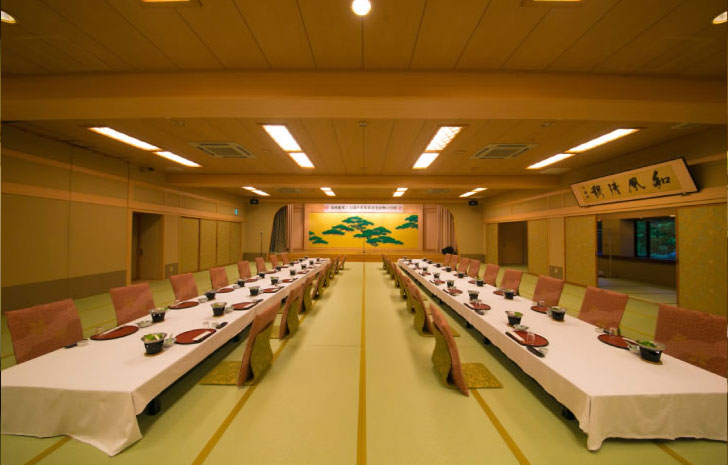 Banquet hall
Banquet halls of between
20 and 100 tatami mats in size
are available for use.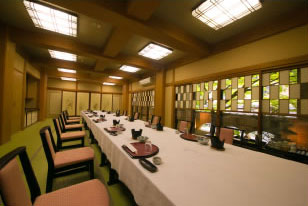 Enrich the memories of your trip with entertainment options
The Moon Karaoke Bar

Please come by the Moon Karaoke Bar for after-parties. Business hours 20:00~23:30 All-you-can-drink menu ¥3,240 for men and ¥2,160 for women (whiskey, shochu, and soft drinks)

Shop

The product selection centers on Wakamiya specialties. The "Guardian Cat" line of products, based on the fable of the cat, is quite popular. Business hours/8:00~21:30
Related facilities
The open-air Yunozen no Sato Baths are only a three-minute walk from the inn.
Please relax and enjoy yourself.
露天風呂 湯の禅
Enjoy the ultimate hot springs experience with facilities including the Yunozen no Sato, which boasts a total of ten different open-air bath types between the men's and women's baths.
Related facilitiesページで詳しく見る
Hidamari Family Baths
Choose from among five baths of differing styles: Fukinoto, Seri, Tsukushinbo, Warabi, and Takenko. The water is changed out after each group of customers.
Related facilitiesページで詳しく見る