アクセス
Enter a different world just 50 minutes from Hakata…
We operate a complementary shuttle bus
for guests at the inn to get to and from Sasaguri Station,
and the Wakamiya Highway Interchange Bus Stop.
交通アクセスマップ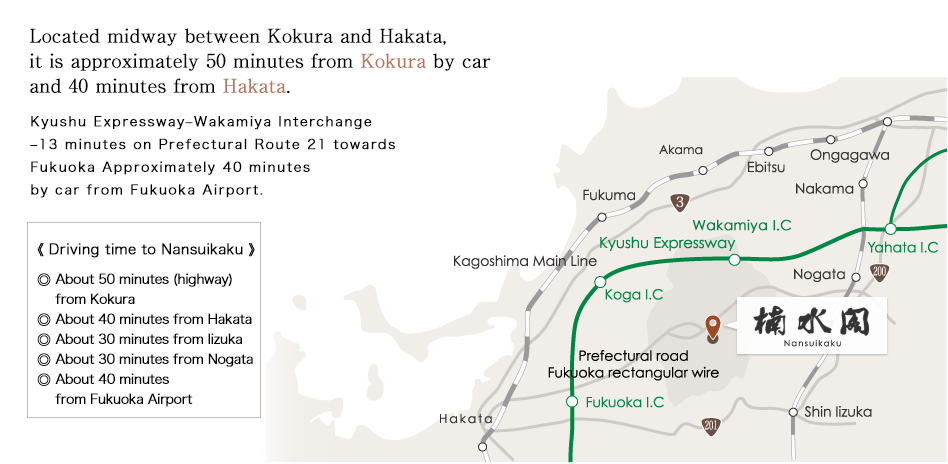 Google Maps
Google Maps 詳しくはこちら
Fukuoka Wakita Hot Springs
Nansuikaku
822-0133 Wakita507,
Miyawaka-shi, Fukuoka
TEL +81 949-54-0123
FAX +81 949-54-0198
Printable maps
Maps will be displayed in a new window. Please print using A4 paper in landscape format.

Free shuttle bus information
For customers not arriving by car… Please contact us by phone
Exclusively for overnight customers at Nansuikaku. The shuttle is not for day-use customers.

Fukuoka Wakita Hot Springs
Nansuikaku
822-0133 Wakita507,
Miyawaka-shi,Fukuoka
TEL +81 949-54-0123
FAX +81 949-54-0198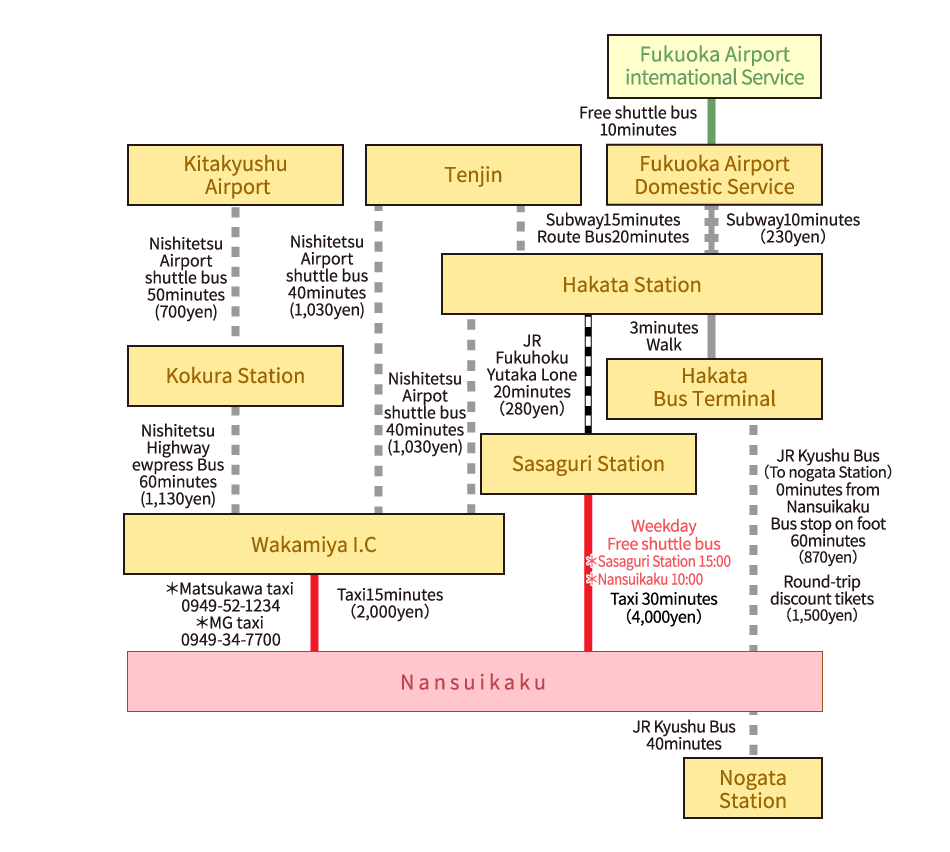 Akama Station ⇔ Nansuikaku at least two days in advance

Monday through Friday (excluding holidays), one round trip per day
◎Sasaguri Station 15:00
◎Nansuikaku at 10:00

Wakamiya Interchange Bus stop ⇔ Nansuikaku Reserve at least one day in advance

◎Please tell me when you get on a high-speed bus "ride on X o'clock, X minutes"
◎Pickup times from the bus stop 13:00〜17:00
◎Pickup times to the bus stop 11:00
(Pickup times to and from the bus stop cannot be specified in advance)